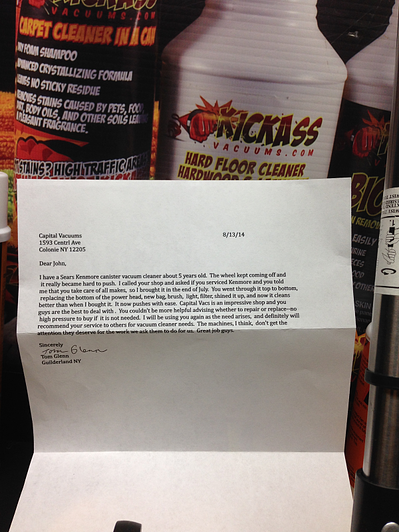 We Get Letters! Just for doing what we do! We Really Like Our Customers and we think we should take care of them!
H
ere's what the letter says:
"Dear John,
I have a Sears Kenmore Canister vacuum cleaner about 5 years old. The wheel kept coming off and it really became hard to push. I called your shop and asked if you service Kenmores and you said you service all makes, so I brought in the end of July. You went through it top to bottom, replacing the bottom of the power head, new bag, brush, light, filter, shined it up, and now it cleans better than when I bought it. It now pushes with ease. Capital Vacs is an impressive shop and you guys are the best to deal with. You couldn't be more helpful advising wether to repair or replace - no high pressure to buy if it is not needed. I will be using you again as the need arises and definitely will recommend your service to others for vacuum cleaner needs. The machines, I think, don't get the attention they deserve for the work we ask them to do for us. Great Job Guys.
Sincerely"
Tom G.
Capital Vacuums Customer
Guilderland, NY